29 November 2019, 2.30pm – 4.30pm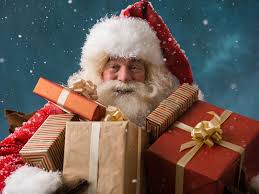 Christmas Fayre
We will be holding our annual Christmas Fayre in school, there will be lots of exciting things on for all to enjoy...
Santa's Grotto - we have arranged for Santa to visit our school and meet with all the children. He will give each child a little gift and they will have their photo taken - this will then be printed and sent home before the end of term. We will create and send a link in the first week after half term for parents to register their child to see Santa - please make a booking for each child so Santa knows how many presents he needs to bring with him. There will be a charge of £3.00 per child.
Name the Elf - when we return from half term, please look out for our Elf he has been sent to us for a lucky child to win by correctly guessing their name! You will be able to pay £1 and select your guess from a list of names. We will announce the lucky winner at the Christmas Fayre and they will be able to take the Elf home with them!
Available names left are:-
Alistair, Beatrix, Bella, Bitsy, Blossom, Buttercup, Beckham, Binco, Bonkers, Brewster, Buckly, Calvin, Chibby, Clancy, Candy, Cherry, Crystal, Cupcake, Daisy, Elliott, Fritz, Frost, Francesca, Gigi, Halo, Henrich, Jinxy, Lucky, Morton, Mimzy, Mitters, Moonlight, Muffin, Pearl, Puma, Paddington, Pipp, Ping, Snap, Scooter, Scout, Shadow, Sheldon, Sugar, Suzie, Skittles, Sneakers, Sooty, Spark, Tucker, Trudy, Tinsel, Tumble, Winnie, Wheatly, Winter
Raffle - the PTA will be holding a raffle at the Christmas Fayre. You will have the opportunity to buy tickets, and the lucky winners will be drawn towards the end of the Fayre. We are busy sourcing prizes for this so if you think you can help by donating something then please do let us know.
Tombola - our ever popular tombola will have a place at the Christmas Fayre! On Friday 8th November children can wear non uniform to school in exchange for donating a tombola prize. If Class 1 & 2 could bring chocolates, Class 3 general items and Class 4 and 5 bottles that would be great but anything you can spare will be gratefully received.
External stalls - we already have some external stalls confirmed, there are still spaces if you would like one, and the cost is £10.00 per table. Please contact Louise McGuffie if you would like to book.
Parent gifts - there will be an opportunity for children to purchase a gift for any special grown-ups, they will be wrapped for the children so the grown-ups don't know what they are!
Games - the PTA team are working with Year 6 to bring you some new and fun games for the Christmas Fayre! Do you think you'll be able to knock Santa off his chimney or correctly pick the golden nose??!! There will be plenty of games to choose from for all the family to enjoy!
Refreshments - we will be offering hot and cold drinks as well as a choice of cakes and mince pies! We would be very appreciative of donations of mince pies and cakes to be sold - if this is a possibility please ensure that they are with the school office for the morning of the Christmas Fayre (Friday 29th November).
Entertainment - we are working with the School Choir and other musical groups to bring you some lovely music to enjoy during the Fayre.
We will create and launch a sign up for parents to offer the time to help at the Fayre so please do look out for this and even if you can only spare half an hour that would be a massive help!
If you do have any other ideas about the Fayre please do share them with the PTA team.