8 July 2022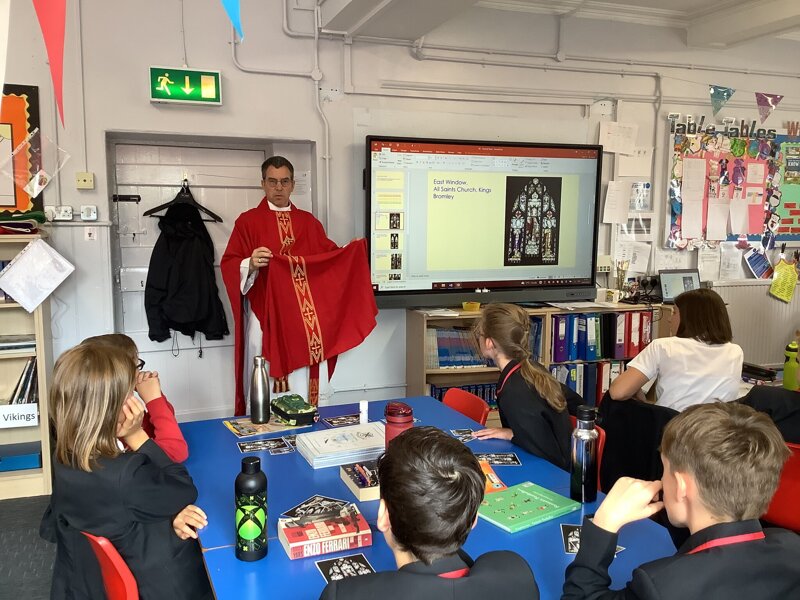 This week Father Jeremy from AllSaints church came to talk to us and Class 5 about the different liturgical colours that we wears throughout the year. He brought his Cassock Alb with him and his different coloured Stoles and talked about each one in turn. He went on to talk about the stained glass windows in the church, the reasons for stained glass and the bible characters depicted in the images. It was a fun and engaging RE lesson and we are very grateful to Father Jeremy for giving up his time.
We have this week planned our persuasive letters, some of us are trying to persuade Mrs Gethin to abolish school uniform, while others are writing to their local MPs about making all cars electric, stopping single use plastic and, making healthy foods cheaper Han unhealthy foods. We will write these letters next week and post them, hoping to get a reply before the new term.
During the afternoons we have practised the play with Class 5. We have been really enthusiastic with the singing and are enjoying the songs. The dress rehearsal went well on Thursday, when the rest of the school watched, and we are excited to be able to share our singing with parents next Monday.
Posted by Liz Gully
Category: Class 4