Welcome to the wonderful Class 3!
Miss Hylton is the class teacher and Mrs Cox and Mrs Mycock are the teaching assistants.
In Class 3, we continue to teach children how to become responsible and independent members of The Richard Crosse family, learning new skills along the way.
Of course, it is important that we have LOTS of fun as we learn, and we have some exciting topics to help us do so, as well as a range of engaging subjects to broaden our knowledge. Every day offers us new and exciting opportunities that take us one step further towards a bright and joyful future.
Throughout Year 3 and 4, we aim to collaboratively learn, share and explore the world around us. We continue to build friendships, make good choices and show KS2 how truly amazing we are!
And remember… Nothing is impossible; the word itself says 'I'm possible'!
PE days are Monday and Wednesday.
Love Miss Hylton
---
Lockdown January 2021
Hello Class 3,
I am missing you all so much, I hope that you are all doing okay.
I'm so sad that we can't be together at school but that doesn't mean we can't learn together! I am so proud of how well you are all engaging in our live teaching sessions. You are answering questions and listening really well. Please remember to turn up to the sessions 5 minutes early so that you can catch up with your friends.
Every day we have 3 sessions:
Year 3 - 9.05 - 9.25 - Maths
Year 4 - 9.25 - 9.45 - Maths
Year 3/4 - 10.25 - 10.45 - English
Year 3/4 - 12:35 - 12.55 - Topic
On Wednesdays we have French lessons with Madame Elliot 3 – 3:30pm and weekly Worships every Monday at 3pm. We also have a 'chat/playtime' session every Tuesday 2 – 2.20pm which the children have really enjoyed!
A day in advance I post the resources and activities you will need for the next school day on our Google Classroom page. You have a home learning pack which consists of a Grammar, Punctuation and Spelling booklet, a comprehension booklet, a yellow exercise book, Rockstar Times-tables worksheet 60/60 and 3 reading books.
Once you have completed your work, I would like for you to send me a photo or scanned image so that I can see how you are getting on. You can do this via the Google Classroom page by posting a comment or emailing your work. Please send your work during school hours 8:30 – 3:30. I will try my best to comment on as many pieces of work you send back to me.
Please try to complete all of the activities below once a day:
Reading for 15 minutes

Practising Times-tables using TTRS

Practising spellings using Spelling Shed
Keep up the amazing work Class 3! I am very proud to be your teacher. We know you and your parents are trying your best so just do the best you can with your online lessons and completing your work.
I hope to see you soon,
Love Miss Hylton
---
Class 3 Newsletter
---
Class 3 - Autumn 2 - Knowledge Mats
---
Year 3 Recommended Reads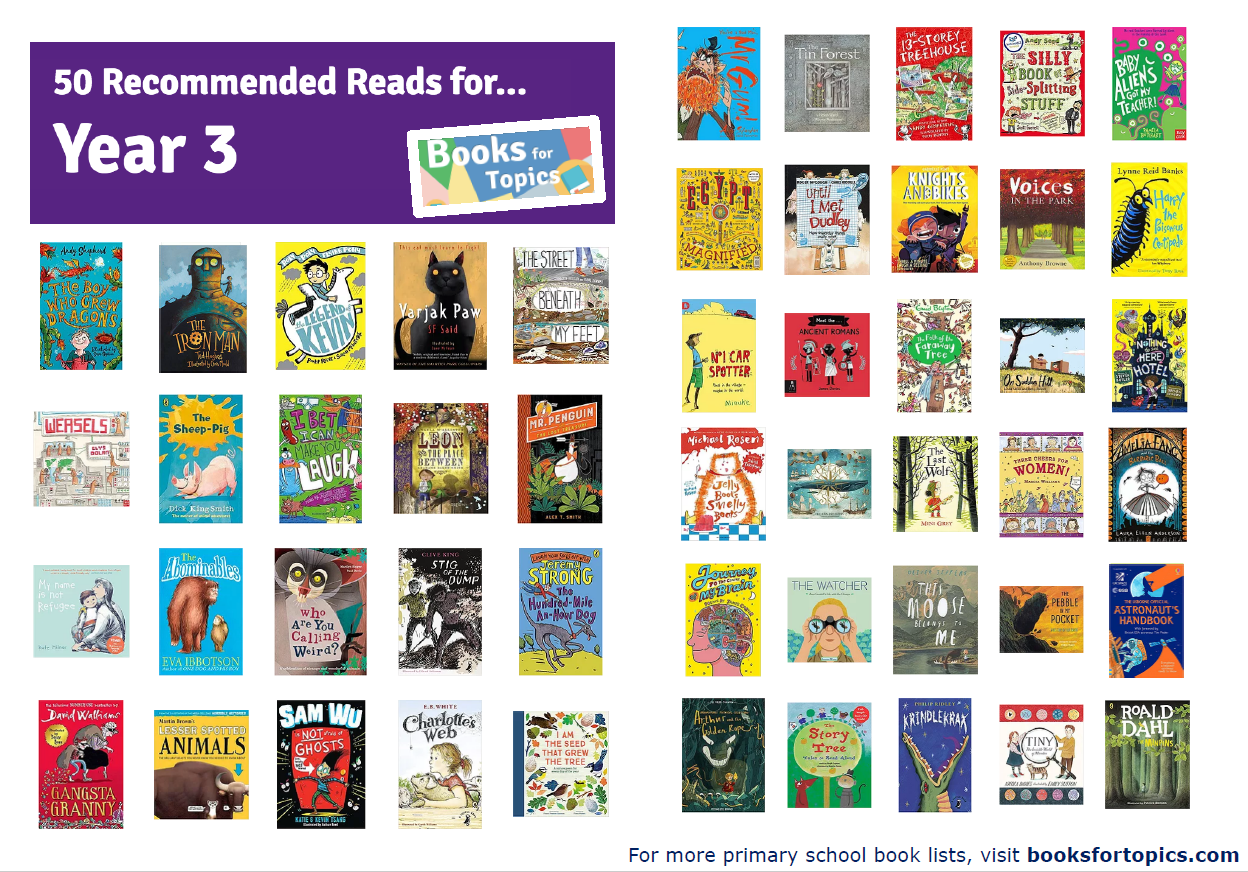 Year 4 Recommended Reads